Are you fully insured and licensed?
Yes, Peachstate Detail LLC is fully licensed and insured.
Where are you located?
I offer services at my location in Sharpsburg, GA which is 30 mins south of the airport.
Do you offer pickup and drop off service?
Yes, I can meet you at the Atlanta airport for pickup and return. If you are taking MARTA back home or getting a rental car, I will drive you to either place.
Can you come to me?
Yes, I do offer mobile services on Tuesday, Wednesday and Thursday of each
week.
What is your service area?
I of course service the greater Atlanta Metropolitan area. I have also traveled to Alabama, Florida, North/South Carolina, Mississippi and Ohio. Mileage fees do apply.
What forms of payment do you accept?
I can accept cash and paypal with a 3% surcharge.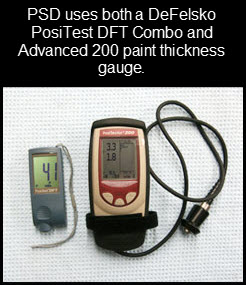 Why does this matter to you? While most serious detailers use a paint depth meter to verify you have enough clearcoat to polish, 98% of their detectors only work on metal. The Positector 200 Advanced can read paint depth on composite, carbon fiber, and plastic panels...all very common on modern cars.